How can Recycling Insights help you?
Maximise your opportunities from trading recyclable materials
Built with you in mind
Recycling Insights provides a comprehensive solution to help your trading decision making
Prices and Forecast Prices
Our AI-driven prices are bringing reliability to the market. Simply fill in the form once per week, and our technology will do the rest. Those who put in false data will be identified by our AI. This means you can trust our data.
We also use this data, and up to 3 million pieces of economic data, to provide forecast prices with a remarkable accuracy rate. At the moment, forecasts are available for OCC, PET, HDPE, LDPE and Dry Bright Wire with more to come.
Compare prices and economic indices
Recycling Insights allows you to compare material prices and economic indices - we even work out the correlations for you.
Want to know the relationship between OCC and electricity prices? Well you can with Recycling Insights.
Need to know how oil prices affect recycled plastic prices? Well you can with Recycling Insights.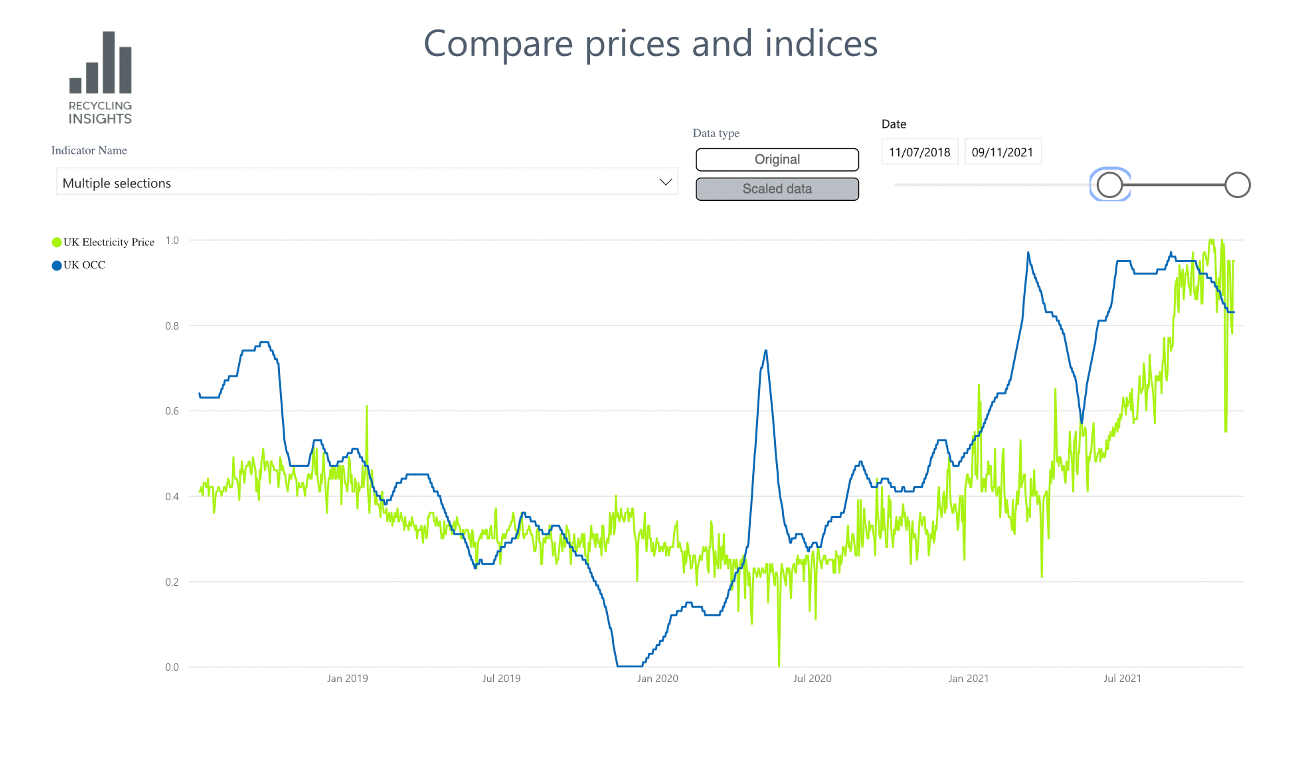 Plus even more
Depending on your subscription package, Recycling Insights offers much more
Market Insights

Our AI investigates the news, bringing up stories and relationships relevant to what you do - professional subscription required

Export/Import Data

UK export and import data for key grades - know where material is going to, the volume and the value - professional subscription required

Daily Dashboard

Our Daily Dashboards give you key prices, forecasts and curated economic indices. Look each day so you know what the market will bring.
Your company data

Plot your own transactions against economic data and prices, to see how you compare to the market - professional plus subscription only

My business

Details of your transactions, including your most profitable trading companies and destinations - professional plus subscription only

Market Sentiment

Understand if the market is feeling positive or negative with our Market Sentiment indicator. Use this to get a feel of whether prices are heading up or down.
Would you like a demo?
We can show you through the site and demonstrate how it will benefit your business.