Understanding Recycling Insights

Paul Sanderson
Recycling Insights is a data science service for the recycling industry.
But what does that mean for your recycling and waste management company?
Forecast prices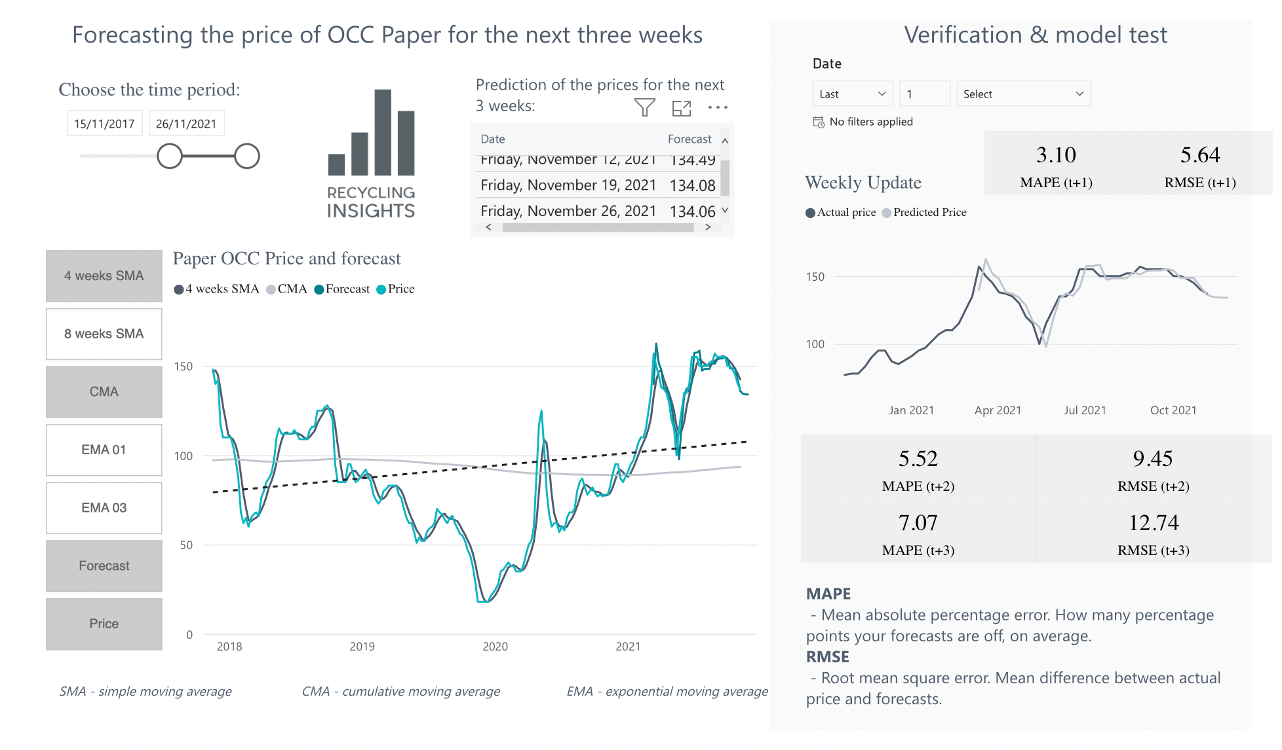 Recycling Insights contains a wide range of economic data including:
Energy prices
Retail data
Shipping indices
Manufacturing output data
Foreign Exchange
And much more.
Our artificial intelligence (AI) and machine learning takes this data, along with market prices for paper, plastics and metals, and analyses and understands what is likely to have most impact on the market in coming weeks. It is constantly learning and improving. So while we are confident our forecast prices for OCC, PET, HDPE, LDPE and Dry Bright Wire are pretty accurate, that accuracy will only get better over time.


Compare economic data to prices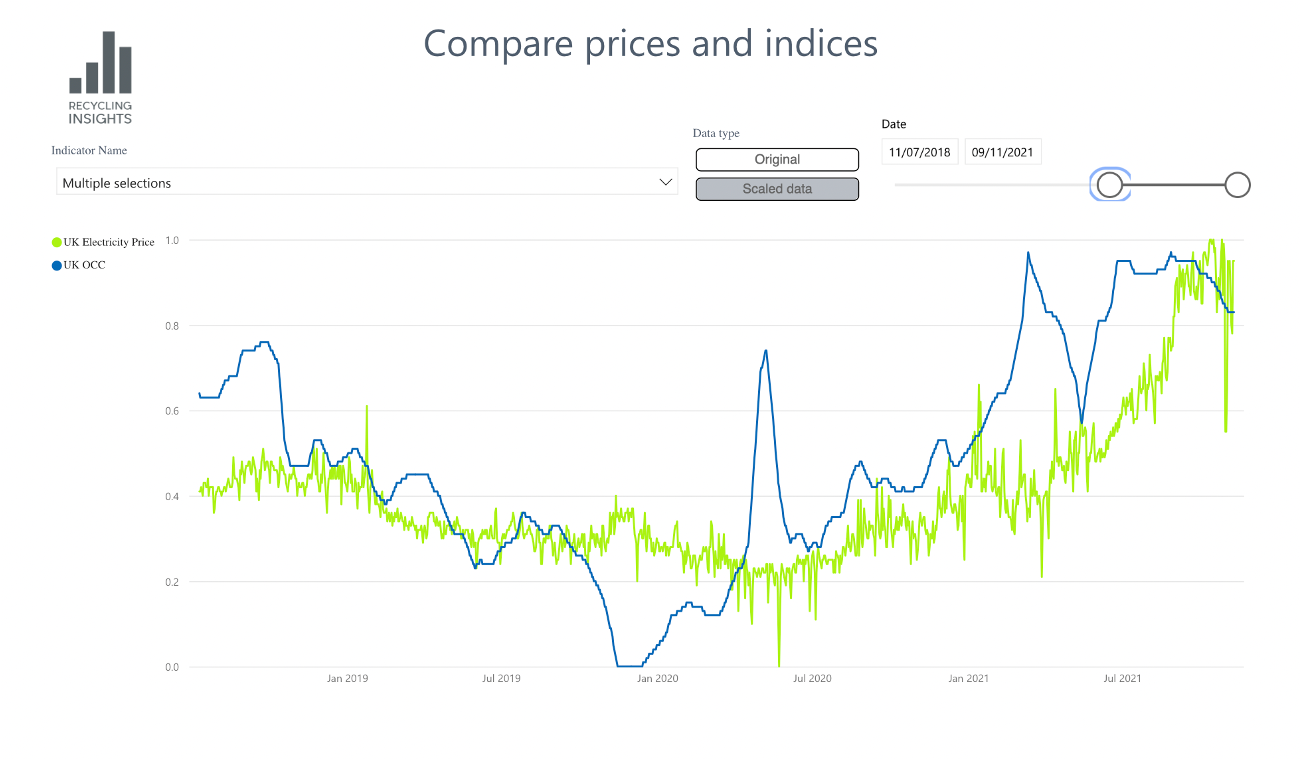 As you can see above, there seems to be a strong correlation between electricity prices and OCC values. This helps to enhance your expertise, so when you are making decisions on trading, it is backed up by economic data. In fact, our AI tells you the correlations that are strongest for the materials you trade, and even includes pre-Covid and Covid period correlations.
Daily Dashboards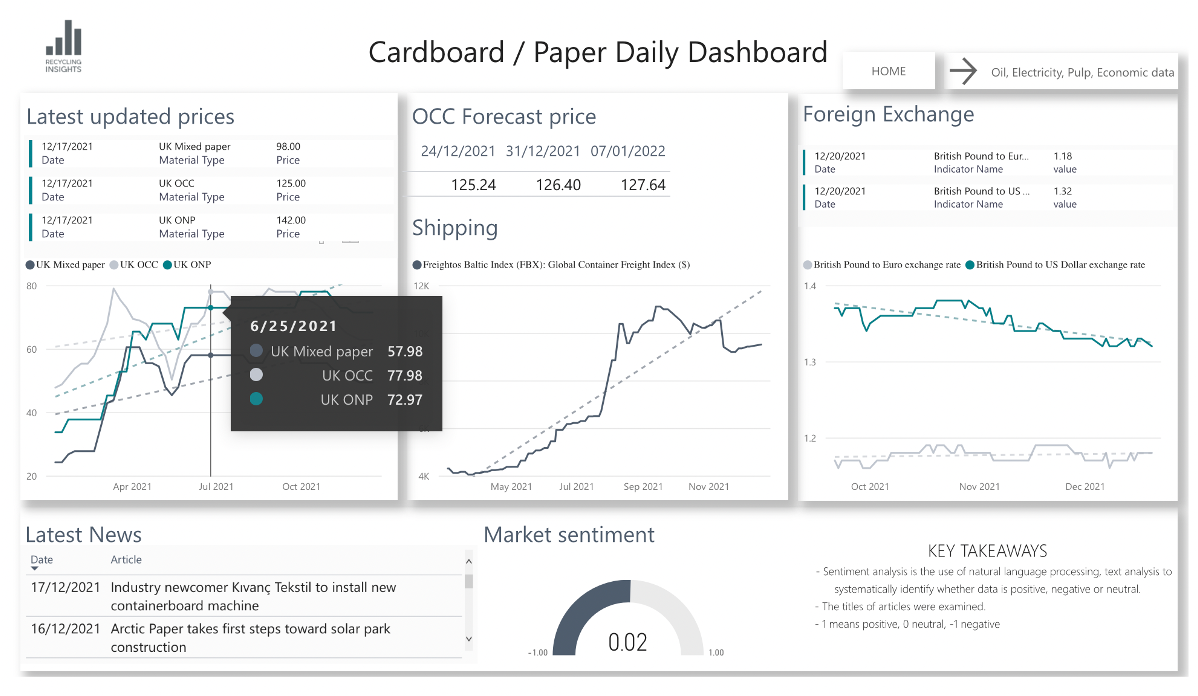 Our daily dashboards give you everything you need in one place. See current market prices for key grades, our forecast prices, shipping, our market sentiment guide, news and access to key economic data. These dashboards are available at all subscription levels* and are available for paper and plastics.
*Small trader subscription only allows for access to either paper or plastic dashboard.
What benefits do you get from subscribing to Recycling Insights?
Better understanding of the recycling market - back-up your expertise with data
AI-driven forecast prices for OCC, PET, HDPE, LDPE and Dry Bright Wire
Understand how your trades compare to the rest of the market with weekly material prices
Analyse how the economy affects prices - make decisions with greater knowledge
Plus much more including export data, collection and treatment data for England, AI-driven insights into the news - key sources all in one place.

Request a demo of Recycling Insights